Blue 3 Wheel Electric Scooter bike
Blue 3 Wheel Electric Scooter bike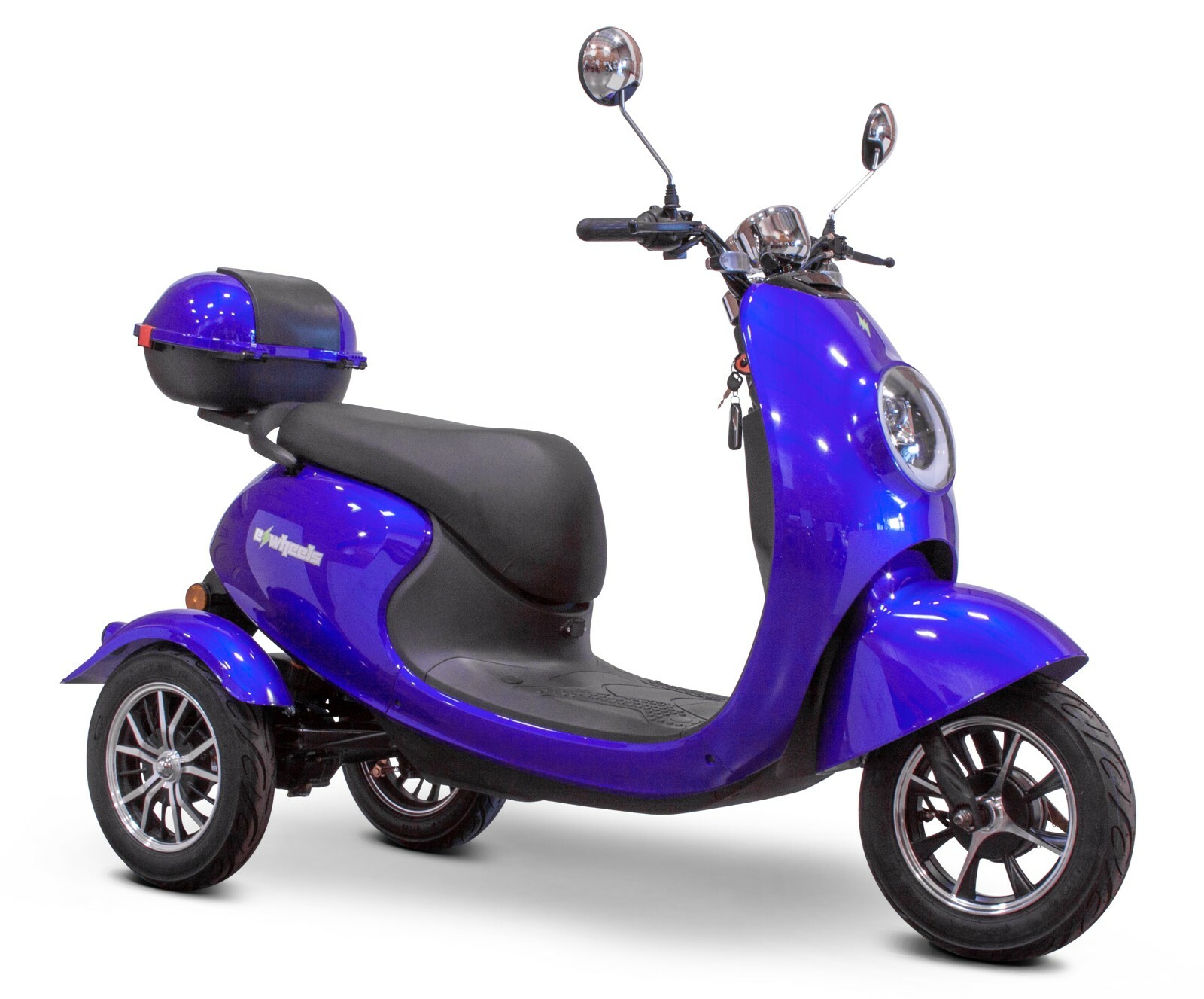 Maximum Speed: 15 MPH
Travel Range: 40 Miles
Weight Capacity: 350 LBS
Rear and Under Seat Lockable Storage
Advanced Bluetooth System With Sound
Shipped Fully Assembled!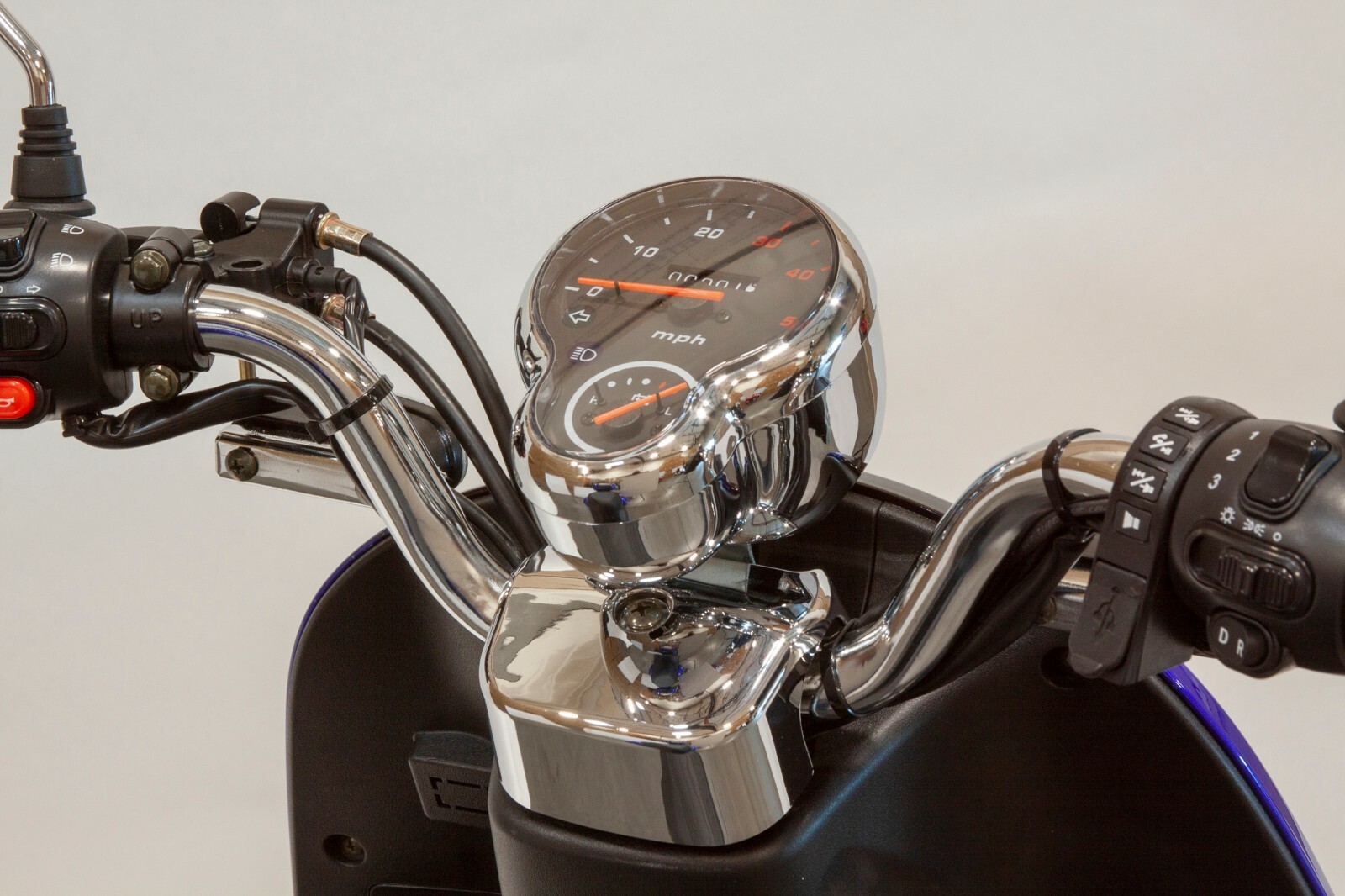 The Blue 3 Wheel Electric Scooter bike has a prominent headlamp! Its fresh style and sporty personality will make heads turn wherever you go. The oversized deluxe seat enhances both riding comfort and driving performance. Its Bluetooth sound system enables you to listen to your favorite music, shows, or phone conversations while you ride. With a maximum speed of 15 MPH and a travel range of up to 40 miles on a single charge, the Blue 3 Wheel Electric Scooter bike can provide all your travel needs. The Blue 3 Wheel Electric Scooter bike is equipped with an electronic remote key fob on/off power function, alarm system, both rear lockable storage and under-seat lockable storage.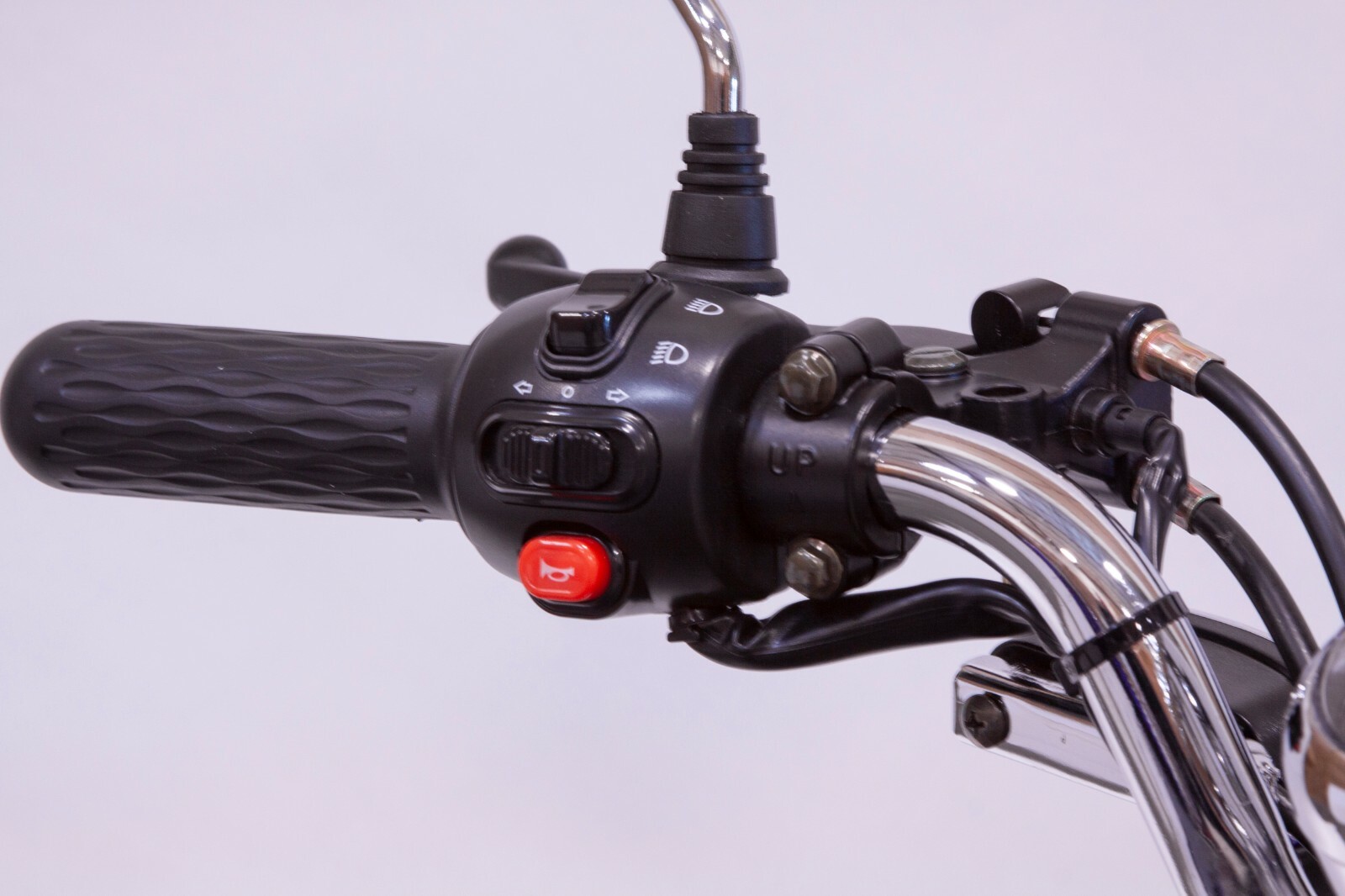 Features & Specifications: 
*  MAXIMUM SPEED: 15 MPH (varies based on riders weight and driving terrain)
*  TRAVEL RANGE: 40 MILES (varies based on riders weight and driving terrain)
*  Bluetooth: Yes, Advanced Bluetooth system with sound
*  MOTOR: 500-watt Trans-Axle Motor
*  WEIGHT CAPACITY: 350 LBS
*  BATTERIES: 48 Volt, 20 AH
*  REAR VIEW MIRRORS: Yes, Two Mirrors
*  BRAKES: Front and Rear Drum Brakes
*  BRAKE LEVERS: Front and Rear
*  STORAGE: Rear Box Storage & Under Seat Storage both secure lockable
*  VARIABLE TWIST THROTTLE: Yes
*  SEAT SIZE: 14 " Wide and 23" Deep
*  SEAT BASE HEIGHT: From Floor Height 30"
*  SMART CHARGER: Yes
*  BAG HOOK: Yes
*  PARKING BRAKE: Yes
*  Front Storage Area: Two Storage Bins
*  REVERSE SWITCH: Yes
*  ELECTRIC HORN: Yes
*  GUAGES: Yes, Speedometer with Battery Gauge
*  3 Speed Settings Low, Medium, and High
*  CLIMBING: 12 degrees
*  LIGHTING PACKAGE: Turn Signals, Brake Lights,
*  High/Low Beam Headlight, Rear Light
*  KEYLESS KEY FOB: Yes, Power on/off
*  ANTI-THEFT ALARM SYSTEM: Yes, Keyless Remote
*  BATTERY INDICATOR GAUGE: Yes
*  TIRE SIZE: Front and Rear Tire Size 15"/3"
*  REAR REFLECTORS: Yes
*  ALUMINUM RIMS: Yes
*  SCOOTER LENGTH: 70"
*  SCOOTER WIDTH: 28"
*  SCOOTER HEIGHT: 40"
*  DECK HEIGHT: 12"
*  GROUND CLEARANCE: 6.5"
*  WHEELBASE: 52"
*  FRONT SUSPENSION FORK: Yes
*  REAR SUSPENSION: Two Heavy Duty Shocks
*  SCOOTER WEIGHT: 209 LBS
*  SCOOTER SHIP WEIGHT: 335 LBS