Universal Walker Tray Table with Non-Slip Grip Mat
Universal Walker Tray Table with Non-Slip Grip Mat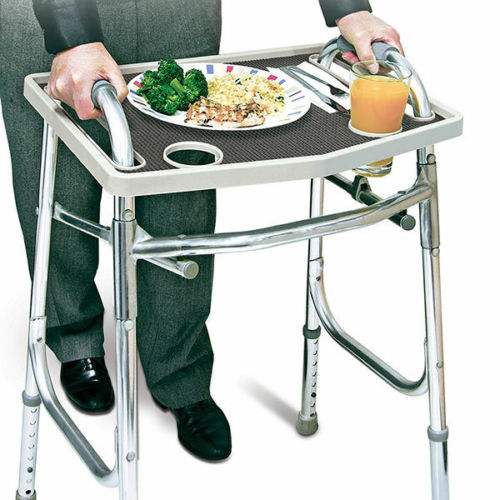 Turn any walker into a TV tray or carry-all. This walker tray has a non-slip mat and holds food and drink, crafts, books, anything you want to take on the go. 
Rubber grips help prevent sliding. Raised edges, 2 recessed cup holders. 
Slides over the handles of most standard walkers. 
Great for buffets and potlucks! 
Easy to clean plastic. 
Measurements 
21" wide x 16" tall x 1" thick. 
* TURN YOUR WALKER INTO A CONVENIENT TV TRAY - Easy to use tray slides over the handles of your walker, creating a stable and convenient tray that's perfect for mealtime.
* FEATURES YOU WANT - Hard plastic base and custom non-slip removable pad with two cup holders and precision cut slots for walker handle.
* FITS MOST STANDARD WALKERS - Overall = 20 3/4" x 15 3/4". Handle slots = 1 7/8" wide x 11 1/2" long. Between handle slots = 16". Cup holders = 2 1/2" diameter.
* SO MANY USES - Makes a great work surface for everyday tasks like crafting, writing, and reading.
* EASY TO CLEAN - Removable non-slip pad lifts off, so you can quickly rinse off or wash both the pad and the tray.